Who We Are.
Meet Ecumen's caring and committed professionals.

Danielle Olson
Executive Director
Contact: DanielleOlson@ecumen.org
Phone: 218-844-7136
Address: 1415 Madison Ave, Detroit Lakes, MN 56501
Danielle has worked for Ecumen since 2010, and joined the Ecumen Detroit Lakes campus in 2019. Danielle started as Director of Housing & Community Services at Ecumen managed Heritage Community in Park Rapids. She was also Executive Director for Ecumen managed Sunnyside Care Center in Lake Park, MN.
Danielle has a BA from Concordia College, Moorhead MN in Healthcare Administration and Long Term Care Administration.
Danielle's favorite part about working in long term care is the ability to make a difference in someone's life each day.

Bridget Okeson
Director of Nursing
Phone: 218-844-7131
Bridget Okeson started working at Ecumen Detroit Lakes, in 1999. She started out her nursing career as a CNA and continued to work her way up. Through hard work Bridget was able to earn her RN degree from M-State Fergus Falls, in 2001. In 2017, Bridget was named Director of Nursing.
Bridget believes that it takes a team to be successful and that no one job is more important than the others.
Bridget says her favorite part of her job is connecting with people. She loves talking to residents, co-workers, and staff. She says she became a nurse because she enjoys helping people and making a difference.

Melissa Gillette
Admissions Coordinator
Contact: melissagillette@ecumen.org
Phone: 218-844-7152
Melissa has been a member of the Ecumen Detroit Lakes family since 2012. Currently, she is the Admissions Coordinator for our Transitional Care Unit and for the Emmanuel Nursing Home. She is our LEAN champion.
Melissa says, "I know I am making a difference in people's lives daily."

Peter Gallatin
Chaplain
Contact: Peterfritch-Gallatin@ecumen.org
Phone: 218-844-7141
Address: 1415 Madison Ave
Peter Gallatin came to Ecumen Detroit Lakes as Chaplain in October of 2014.
In addition to his Chaplain duties, Peter also oversees the Life Enrichment department and Volunteers.
Peter graduated from MSU-Moorhead in 1995 with a degree in Mass Communications. He went on to Luther Seminary receiving his Masters of Arts in Youth and Family ministry in 1998. Peter worked in youth ministry for nearly 20 years, including working as a consultant to help churches rebuild their youth programs.
Peter finds his work at Ecumen Detroit Lakes rewarding and loves seeing the youth come out in all the residents!
Philippians 4:4—Rejoice in the Lord always. I will say it again: Rejoice!

Anita Bendickson
Clinical Manager
Phone: 218-844-9432
Anita Bendickson has been with Ecumen since 2016. She has a bachelor's degree in nursing from Concordia College in Moorhead.
Anita says she has always wanted to be in the medical field. She loves working in long term care because she knows she is making a difference. An essential quality in a person's life is independence, which is something that she can offer those residents that she cares for at Ecumen.
She believes that Ecumen is a great place to work because everyone at Ecumen carries out the mission. By putting residents first.

Jennifer Beeson
Human Resource Director
Jennifer Beeson is the Human Resource Director at Ecumen Detroit Lakes. Beeson worked as HR coordinator at EDL from 2003-2014 then rejoined the team in 2019. Beeson graduated from North Dakota State College of Science with an AAS degree. She then transferred to Moorhead State University Moorhead, where she earned her bachelor's degree in business administration, with an emphasis in human resources and marketing.
Beeson says, coming back to Ecumen has been great, "the first day I was back in the building, it felt like coming home. I had more than one person say to me 'welcome home."
Beeson's philosophy, "hire the right person with the right attitude. I can teach skills. But I can't teach a person to be compassionate or caring."

Charles Newland
Community Relations Manager
Charles Newland is the Community Relations Manager at Ecumen. Charles graduated with a bachelor's degree from Bemidji State University in Mass Communication in 2013. Before joining Ecumen Charles spent seven years in the media field working for radio and television. He joined Ecumen in 2019.
Charles says his goal is to connect people with Ecumen through outreach programs and share stories of the inspiring team members who provide care to the residents that Ecumen serves. He also loves to be around the residents and is the bridge from Ecumen to the surrounding community.

Monica Kemper
Program Therapy Director
Monica Kemper grew up in Mahnomen, Minnesota. She attended college at Concordia College, Moorhead, where she received a bachelor's degree in psychology and exercise science. She then attended MCPHS University in Worcester, Massachusetts, where she earned her Doctorate in Physical Therapy. Ecumen hired her in June of 2015 as a staff physical therapist.
Monica says she looks forward to her interactions with her patients each day she steps into work. "Therapy may not be the patient's favorite part of the day, as it is challenging. However, with time, the patient usually comes to appreciate the work they put in to return to their prior level of function, or to return home. Once the patient is close to returning home, they get so excited and happy, which makes the work we do every day, so worth it."
According to Monica, the best part about working for Ecumen is the people. She loves that she works with caring and compassionate people.

Paul Rudolph
Environmental Services Director
Contact: paulrudolph@ecumen.org
Phone: 218-844-7137
Paul has been the Environmental Services Director since March, 2007, overseeing campus-wide building projects, equipment repairs, housekeeping and laundry departments.
Paul has an industrial maintenance and hydraulics degree from Alexandria Technical College along with several HVAC and Facility maintenance certifications obtained throughout the years.

Jennifer Bristlin
The Madison Housing Manager
Contact: jenniferbristlin@ecumen.org
Phone: 218-844-9431
Jennifer has been employed with Ecumen since 2004 and moved into the Housing Manager role in 2014.
Jennifer says, "My goal as a Housing Manager is to enhance the lives of those that I serve. I strive to add 'color' to our clients' lives through building relationships with them and their families, providing a variety of activities and to keep them connected with their community."

Pam Wellman
Service Coordinator Lamplighter Manor
Contact: PamelaWellman@ecumen.org
Phone: 218-844-7153
Address: 1425 Madison Ave
Pam has been with Ecumen Detroit Lakes since 2013 where she started as a health information coordinator. In 2014 she was hired to serve as the Service Coordinator for Lamplighter Manor. Prior to coming to Ecumen she worked in both hospital and clinic admissions as well as being CNA. She is currently a member of The American Association of Service Coordinators (AASC), Becker County Senior Network, Becker County Senior Council and Becker County TRIAD.
As the Service Coordinator for Lamplighter Manor, Pam provides assistance and access to community-based support and resources to senior and disabled adults, who need supportive services to maintain
Self-sufficiency. She states about her position, "There is nothing more gratifying than to assist residents in a way which will keep them living safely and independently in their homes". She works closely with both the residents and their families to meet their needs.
When not at work Pam enjoys spending time with her two grown children and friends. She takes advantage of living in the lakes area by boating, golfing and long walks.

Deanna Braun
Housekeeping Supervisor
Contact: DeannaBraun@ecumen.org
Phone: 218-844-7149
Address: 1415 Madison Ave
Deanna Braun has devoted over 35 years to Ecumen Detroit Lakes. Deanna currently serves as Housekeeping Supervisor.
Deanna has also served as a certified nursing assistant. Deanna enjoys the direct contact with residents and building relationships that last a lifetime.
She is also known as a " Singing Housekeeper."

Julie Gray
Laundry Supervisor
Contact: JulieGray@ecumen.org
Phone: 218-844-7138
Address: 1415 Madison Ave
I have worked at Ecumen for 34 years.
I enjoy camping, watching movies and spending time with family & friends.

Brenda Labine
Life Enrichment
Contact: brendalabine@ecumen.org
Phone: 218-844-7157
Address: 1415 Madison Ave
Brenda has been part of the team at Ecumen Detroit Lakes since 1998. Currently, she is a Life Enrichment Specialist on the Memory Care Unit. She has a degree in Therapeutic Recreation from UND. She facilitates the Alzheimer's Support Group and serves on the Board of the MN Statewide Activity Professionals.
Brenda says, bringing meaning, comfort and joy to those she serves is her mission.
In the words of Maya Angelou, "I've learned that people will forget what you said, people will forget what you did, but people will never forget how you made them feel."

Ashley Ratz
Staffing Coordinator
Contact: AshleyRatz@ecumen.org
Phone: 218-844-7186
Address: 1415 Madison Ave
Ashley Ratz has been the Staffing Coordinator for the nursing home since 2015.
She has an Associate's Degree in Human Resources from M-State Moorhead, and is currently pursuing her Bachelors in Health Care Management through University of Minnesota, Crookston.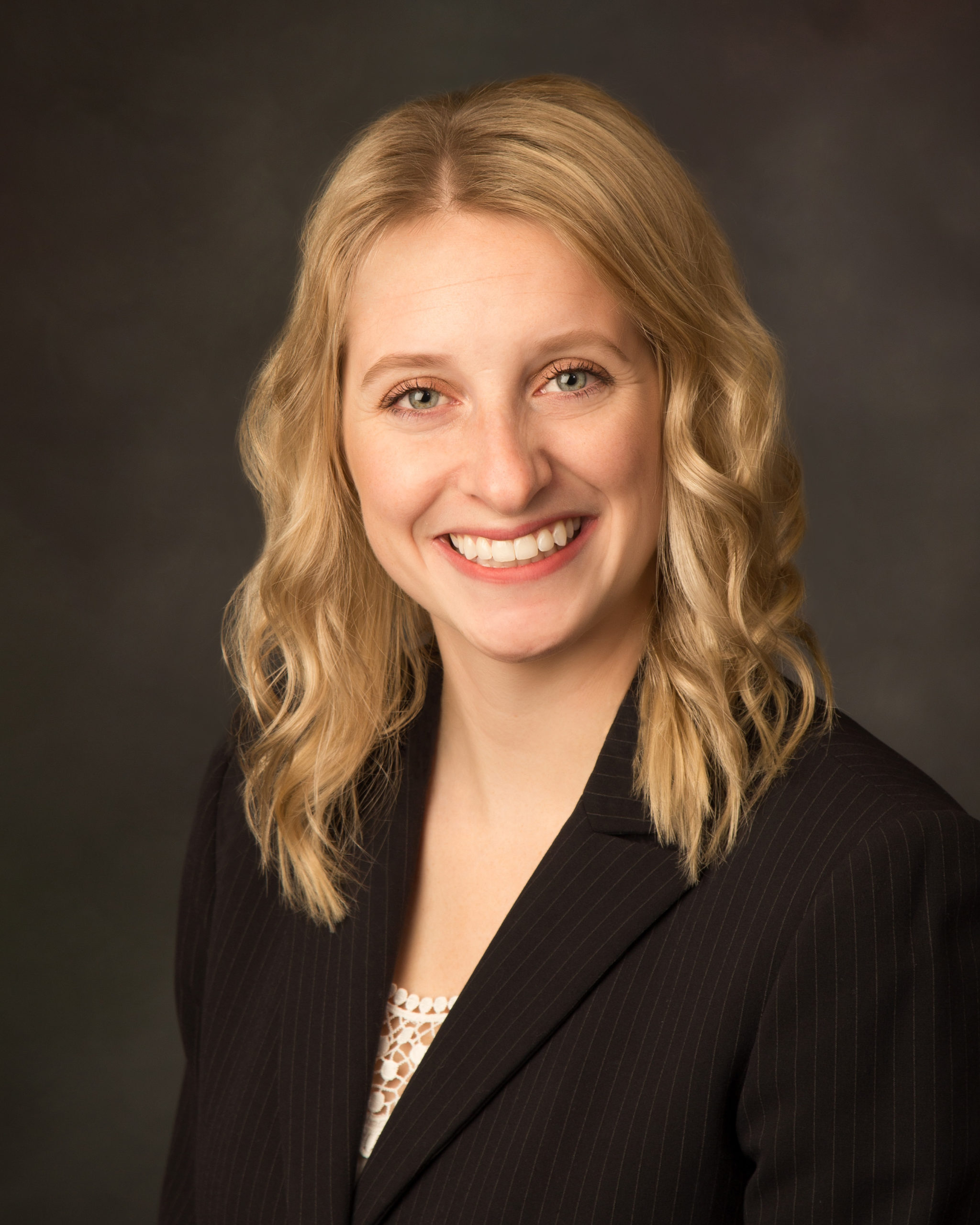 Mary O'Brien
Assistant Executive Director
Contact: maryobrien@ecumen.org
Mary has been with Ecumen Detroit Lakes since December of 2020. Mary has a healthcare background as she worked for Lake Region Healthcare in Fergus Falls and Eventide Senior Living in Fargo. Mary has a Bachelor's Degree in Healthcare Leadership and Long Term Care Administration from Concordia College, Moorhead.
Mary says that she is passionate about making a difference in our residents' lives and is excited to establish relationships with team members at Ecumen Detroit Lakes